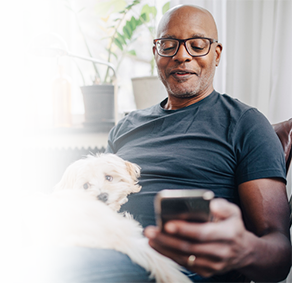 Security Made Simple
If you have misplaced your card, you can easily lock it right from your phone through the mobile app or by computer. You can also use the feature to limit access for added security. And remember, please call to cancel the card if you can't find it.
HOW TO LOCK YOUR CARD
Step 1
LOG IN to your account on associatedbank.com or in the Associated Bank Mobile App.
Step 2
In the main navigation, select "Credit Card" and then select "Services".
Step 3
Click the "Lock or Unlock Card" option and change the card status with a simple click.
After locking, no new transactions can be made until you unlock the card. Pending or recurring transactions (like utility bills) are not affected.
Sign up for online services. Enroll now - Enroll now for credit card account access.
Ready to get started? Download Now: